Ed's Book Available NOW at: edfrancissr@aol.com
News Flash!!!!
Ed's book: 
"Gentleman Ed Francis Presents 50th State Big Time Wrestling!"

is available NOW!! To get your copy, email Ed Francis directly at:
edfrancissr@aol.com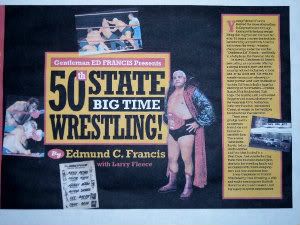 Here is a brief preview of Gentleman Ed Francis' Book:
"Gentleman Ed Francis Presents 50th State Big Time Wrestling!" is the product of a series of lengthy conversations I had with Ed in the Summer of 2012 at his daughter Pixie's home outside Kansas City, Kansas. Prior to my time visiting and chatting with Ed, he and Pixie had already begun laying the foundation for the book. In earlier talks with his daughter, Ed had revealed a variety of remarkable stories from his colorful past as a youngster growing up in Depression-era Chicago, as a pro wrestler crisscrossing the mainland U.S. and ultimately, as the promoter of 50th State Big Time Wrestling  in Hawaii.
Pixie had ably and skillfully transcribed many of Ed's recollections , and it is her fine work that served as the launching pad for this book focusing on Ed's years  in the Islands. My sincere thanks  go out to Pixie for all her labors.
My interest in the project stemmed from my own years growing up in Hawaii, watching Gentleman Ed and Lord Tally Ho Blears on KGMB TV, either calling the wild  wrestling matches or conducting those crazy locker-room interviews with Ripper Collins, Handsome Johnny Barend, Curtis "The Bull" Iaukea and all the rest.
I wasn't quite sure what to expect as we began the work. But, soon after 86-year-old Ed Francis welcomed me into their home. I was astonished at his ability to recall events , names, and even the smallest details from his time in Hawaii some 50 years earlier.
Beyond Ed's acuity of mind, he remains a powerful, physically imposing presence. In the room where we chatted there was a weight bench and barbell set close at hand. Even at age 86, Ed continues to stay strong and fit.
Granted, some of our days started a bit later than others. Those were the days when Ed's knees, hips, and shoulders , and back reminded him of the brutal toll his chosen wrestlng profession had taken on his body over the years.
But in the getting the opportunity to spend time with Gentleman Ed, I was struck by something more than Ed's uncanny ability to bring to mind all the wonderful stories that fill his book. It was even more than his enduring impressive physical stature.
What struck me most was the unmistakable quiet grace and dignity that Ed Francis retains to this day.  It's the quality that likely led to his apt "Gentleman" moniker so many years earlier. It's a quality that allowed him to be the steady guiding hand through those roller-coaster years of wrestling's heyday in Hawaii.
Ed and I had lots of laughs recalling his days in the islands, days that included a match with a 500 pound bear, a riot at the Civic Auditorium on King Street, threats to Don Ho, Johnny Barend's lit cigar sticking out of a coffin in the locker-room and Ripper Collin's naked butt display for all to see in the ring.
But there were a few tears as well. Ed welled up with emotion when he recalled Barend arriving in court to stick up for  his friend Neff Maiava on trial. And Ed's memory of the sudden death of Jim Hady, a close friend of his, was a painful one.
The days of regional wrestling promoters like Gentleman Ed, crafting a sports entertainment product designed specfically for a local audience are likely behind us. As such, "Gentleman Ed Francis Presents 50th State Big Time Wrestling!" represents a singular slice of history, a snapshot of the days when the fervor of island wrestling fans led to sold-out houses at the Civic Arena.
As you will see in the pages that follow, the love of Hawaii fans had in the 1960′s and '70′s for the sport of pro wrestling was the direct result of the dedication of one man. That man had come from abject poverty, charity bread lines, and public housing as a child. He found sanctuary at the gym, and by building his muscles he built a career. The he took an  enormous gamble, betting it all on his dream of promoting his sport of wrestling in Hawaii
That man's bet paid off. He lived his unique version of the American dream in the Islands, thrilling audiences every week and giving us all a show we'd never forget.
That man is Gentleman Ed Francis. I'm honored to call him my friend.-
Larry Fleece
Valencia, California
(Book Co-Writer)
——————————————————————————————————————-
The singular American odyssey of a Depression-era boy from Chicago
who survived flying bullets and chairs, bouts with bears, and the Japanese yakuza
to become a pioneering promoter in the rough-and-tumble world of professional wrestling
*******
Edmund Charles Francis had no idea, when he walked into Chicago's Hamlin Park Fieldhouse at age 12 and got his first training as a wrestler, that it would be the beginning of a journey into the wild intersection of show and sport that would span more than four decades of his remarkable life.
At that point Ed & his family had simply been trying – like everyone in America – to survive the Depression.
For Ed as a youngster that had meant selling papers and shining shoes, earning a penny for playing his harmonica and dancing the soft shoe, "borrowing" from local food vendors when their heads were turned, and with his brother, 'fishing' for the ever-abundant rats in Chicago's infested streets by offering them a potent mixture of liverwurst and ground glass.
But training under Lou Talibar and Ruffy Silverstein, then working out with the German-American Weightlifting Club, helped Ed grow big and tough. Very tough. At local carnivals Ed took on all challengers in the ring, offering $1 for every minute they survived, $100 if they lasted 15 minutes. No one ever made it past 3 minutes with Ed.
Ed made a detour into the merchant marine and the North Atlantic during World War II – at just age 16 – then came home to barnstorm around the country, wrestling 5-7 nights a week, week in and week out, in every little town that could put fans in the seats.
It was when the fans came out of those seats that the trouble started. Ed was often, in the parlance of the ring, a 'heel' – the bad guy. The guy the fans loved to hate. And on many nights, the end of a match was just the beginning of Ed's work. The final bell was the call for angry fans to riot against the heel – which meant Ed had to punch his way out of the arena.
There was the match in Toronto when Ed fought his way to the locker room, only to be trapped there by crazed fans pounding on the door. So Ed grabbed the guy in front, pulled him inside, and hit him so hard it broke his jaw. It was a different time then – a time without lawsuits.
On another night after a match, angry fans took down a wrestler named Sonny Myers. To show him how they felt about him, the fans sliced open Sonny's stomach and his intestines spilled out into his hands. A trip to the ER got Sonny sewed up, and within weeks he was back in the ring.
Angry fans didn't care about wrestlers' schedules. On the night before a huge match with World Heavyweight Champion Lou Thesz, Ed got smashed in the head by a chair-wielding fan. After the doctor stitched him up, Ed had a bad reaction to his tetanus shot, swelled up, and passed out in the hospital. Yet somehow, he was in the ring the next night as scheduled, and battled Thesz for 60 minutes to a draw.
Not all the fans were angry. Many were adoring, and of the female variety – referred to by some of the wrestlers as 'arena rats.' But Ed certainly didn't think of them as rats – he met two of his five wives at wrestling arenas. As Ed himself explains it, he and these girls had two very important things in common: "We both liked wrestling and we both liked me."
In Tulsa in 1956, Ed was smitten by one stunning tall redhead, a wrestling fan named Delores. He jumped at the chance for a double-date with Delores, her friend, and a wrestling buddy named Ricki Starr – only to learn that both girls were prostitutes.
After Ed and Ricki 'liberated' the girls from their pimp, the volatile relationship that followed for Ed & Delores over the next several years included wrestling matches, drinking, screaming matches, marriage, booze-fueled tugs-of-war with Delores over loaded handguns, and ultimately, divorce.
A chance wrestling trip to Hawaii stuck with Ed. He was enchanted by the place and its people, and returned there after years on the road, to make a home with his wife Arlene and their four sons. (Ed had been busy after Delores.) Ed bought out his friend Al Karasick's Hawaii wrestling empire, and Gentleman Ed the Wrestler became Gentleman Ed the Promoter, bringing his wild matches to action-hungry live & TV audiences in Hawaii.
Over the next 20 years Ed truly brought the 'show' to his thriving wrestling business in the Islands. He brought mainland superstars, women, little people, and a 7'4″, 500-pound Frenchman named Andre the Giant. Ed brought a Samoan named Neff Maiava who patented the lethal Coconut Head Butt, and a Japanese Olympic weight-lifter who wrestled as Tosh Togo, and whom Ed placed as "Odd Job" in the James Bond movies.
Could the fans have any doubt – when Ed brought Gorilla Monsoon, The Sheik, The Missing Link, Billy White Wolf, Hard Boiled Haggerty, and Giant Baba – that they were going to get their money's worth?
Just in case, Ed also brought bears. He brought 600-pound Victor the Wrestling Bear to the Islands. And when Ed had trainer Tuffy Truesdale bring in Gentle Ben the Wrestling Bear, all the way from Missouri to Hawaii, none of Ed's wrestlers dared to step in the ring. So Ed himself stepped in to show them how it was done – only to have Ben the Bear bite through Ed's thumb.
As a wrestling promoter Ed saw parallels to the world of the gangsters like Al Capone and John Dillinger who prowled the Chicago streets of Ed's youth. Where there was fame and money, corruption and violence were sure to follow.
So Ed was understandably wary when he got the call from Japan, asking him to come to the aid of a fellow wrestling promoter named Rikidozan. Riki had been stabbed and killed, and his associates feared that the Japanese yakuza was intent on taking over their wrestling business. By the time Ed arrived in Japan, yakuza members had indeed taken over Riki's business office. Ed took charge. He collected his wrestling friends from the gym in Tokyo and made a little 'business call' of his own. Once Ed and his physically imposing friends 'explained' the situation to the yakuza – in the process 'accidentally' throwing one of them down the stairs – they got the message. Ed's friend's business was restored, and Ed hightailed it back to Hawaii with his life intact.
Wrestling had indeed been good to Gentleman Ed in Hawaii. With his right-hand man and commentator Lord Tally-Ho Blears at his side, Gentleman Ed had supplied Hawaii fans with a steady diet of action-packed entertainment for almost two decades.
But by the late 1970's appetites were changing. And as Ed himself moved into his 50's, he wasn't always in the mood for the bumps and bruises that invariably accompany a life around the professional wrestling ring.
Ed could see that it was time for the next chapter. He sold his Hawaii wrestling empire, and through the 1980's Ed found new passions high up in the skies over the Grand Canyon, running an air tour business out of Boulder City, Nevada with his son Russ, an avid pilot and former NFL tight end & 3-time Pro-Bowler.
Today Gentleman Ed lives in Kansas, close with his extended family, and at the ripe young age of 86 he's ready with a smile and a story for anyone who has the time. And it's worth taking the time to hear and read Ed's story.
It's a story that begins each day of his Chicago Depression-era youth at 4 a.m., standing in the 'charity line' with his mother for their ration of dried beans, cheese, cornmeal, and lard.
It's a story of a young man knowing nothing more than "strong and tough means durable," building his body to withstand whatever the world was preparing to throw his way.
It's a story that travels across the nation in a whiskey- and blood-soaked blur of arenas and gyms, buses and motels, taverns and emergency rooms.
It's a story that fills up the senses, with the deafening roar of standing-room-only crowds, the stench of men's sweat, and the elusive, too-sweet taste of national fame.
It's a story that makes itself up as it goes, improvising, risking it all, falling and getting up, ultimately weaving a crooked mosaic that is an entirely unique version of the American dream.
People say pro wrestling's fake. It's all for show.
But that's the grand irony about the life of Gentleman Edmund Charles Francis. In creating the show, in feeding the fans' hunger, Gentleman Ed never spent a 'fake' day in his life.
The scars and the stories, the highs after matches and the painful divorces, the trunkful of memories: those are all real.
The story of Gentleman Ed is the story of a truly singular life, one of passion and character, fully lived.